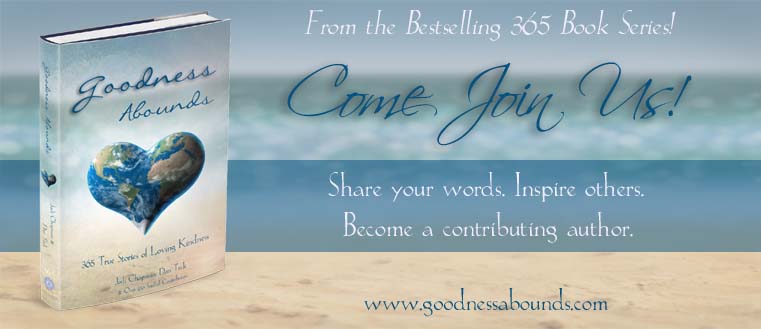 I am so thrilled to be part of this amazing collaboration of writers!  Gooodness abound is a new book in the series of 365 books. Want to share your words, inspire others, expand your reach, and prove that goodness truly does abound – all at the same time?
I'm so happy to share this opportunity for you to become a contributing author in the upcoming book Goodness Abounds: 365 True Stories of Loving Kindness! It's the 4th book in the #1 bestselling 365 Book Series, and it will contain 365 personal stories (from over 250 contributing authors) of people expressing love, goodness, and kindness. The experiences will range from huge expressions of lifelong love to small acts of kindness – all sharing one thing in common: they add to an ever-growing mountain of evidence that goodness abounds!
I know that this book is going to uplift so many people, which is so needed in our world right now. I'm so excited that I'm going to be one of the contributing authors! If you're feeling called to share your own story of kindness, be sure to sign up soon to reserve your spot – over 150 days are already reserved and there's a special discount this month only! You can learn all about it here!
https://www.jodichapman.com/goodnessabounds?ap_id=janetlyn
https://